*pssttt... this is one long entry. Just bear with it ya ;-)
Our journey begun on Thursday, 21 October 2010. Flight was scheduled at 1:40 pm, hence on the way to LCCT we first dropped KiKi at the Zul & Azizi Boarding Centre in Kinrara. Since living with us for already 2 months, that was the first time we ever got separated. I tell you it was a hard thing to do and I even shed my tears after leaving her. It was also our first time travelling with AirAsia X and we didn't expect much. Que was quite long at the check-in counter and we had to walk quite far to our airplane. I even saw some passengers boarding the plane with sweats trickling down their faces. What you pay is what you get - so can't complaint much about that.
Anyway AirAsia X was not that bad. They got leather seats which were quite comfy with ample space between the seats similarly to economy seat offered by other established carriers, except you need to rent (RM30) portable screen for entertainment or buy their Comfort Kit for RM35 if you require blanket or sleepmask which normally given as complimentaries by other carriers. One thing I like the most about travelling with AirAsia is their meals because they tasted really good (especially Pak Nasser's Nasi Lemak) if compared to usual packed in-flight meals given by other airlines. It was an 8-hour flight and we were surprised to hear that our flight will land at 12:30 am, one hour later than scheduled time due to daylight saving. Apparently time difference between Melbourne and Malaysia is 3 hours during Spring and Summer rather than 2 hours during Autumn and Winter, but not counted in the earlier itinerary. We felt sorry for our hosts though cuz we couldn't notify them about the delay. On flight, I made new friend with an Aussie who sat besides me. We chatted and before landing she gave me all RM she got amounting to RM50 because she didn't need them anymore. She told me to remember her and yes, I still remember you till today :-) We were glad we've safely arrived and happy to meet our wonderful hosts, Hairil and Isma. Isma even prepared us yong tau foo for supper (yong tau foo in Melbourne? wow!) and we excitedly chatting with each other before preparing ourselves for the next day.
The first place we visited on our first day in Melbourne was Healesville Sanctuary. We took bus and train from Bundoora, almost 3 hour journey to reach there as it was located somewhere in the countryside area. Prior to arrival, the view was scenic and there were cows and sheeps along the way. Totally calm. Admission fee for an adult was AUD24.80 but I got myself student rate at AUD19.20 by showing my student card (I'm used to showing my student cards in oversea and enjoy great discounts because they normally have special student admission rates.)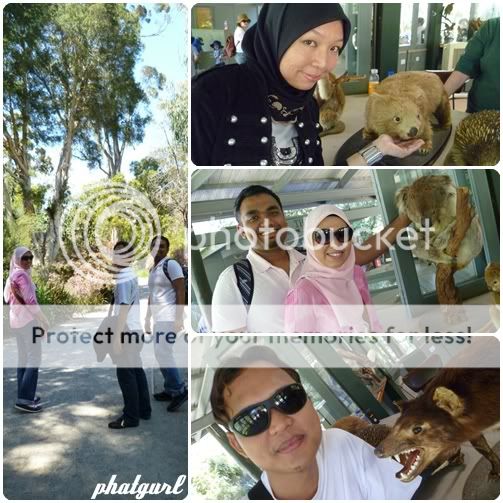 Australian are proud with their local animals, so most animals we saw in the sanctuary were Australian such as emu, koala, echidna, kangaroo, wallaby, tasmanian devil, platypus and dingo besides other birds and reptiles. They got big, cute koalas and a number of kangaroos. We managed to pet the kangaroos after eating our packed lunch (fried mee & sardine puff) in the picnic area. Well, it was our lucky day indeed because the weather was lovely, bright and sunny all the way. According to weather forecast, the weather was up to 26 degrees that Friday. Nice...
It was still early, so from Healesville Sanctuary we made our way to Brand Smart factory outlet in Whitehorse Road. They have wide selection of brands at discounted prices like Esprit, Pumpkin Patch, Royal Doulton, Vileroy & Boch and other local brands. The place was quite desolated and quiet maybe because it was working day. We didn't buy anything either because after conversion, an Esprit blouse for instance was similarly priced to Esprit outlet in Kuala Lumpur. Since shops closed a bit late on Friday, we then headed to Westfield shopping centre before going home for dinner and had a good rest.
*keywords: review on AirAsia X, AirAsia X food, what to do in Melbourne, things to do in Melbourne, where to go in Melbourne, Melbourne Australia